"Real Close"
October 15th, 2021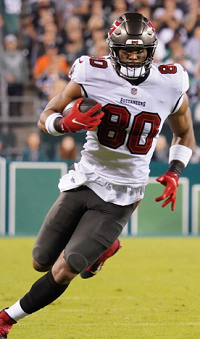 The Buccaneers' No. 2 tight end will be scrutinized by the data crowd soon at One Buc Palace.
They're going to help Bucco Bruce Arians determine how healthy Howard is following Achilles surgery a year ago.
That was the word from the greatest head coach in Bucs history this afternoon. Howard is "real close" to 100 percent, Arians said, but he wants to hear from the folks monitoring the tracking devices.
He said Howard got up to "about 18 miles per hour" in practice recently and Arians wants to see the speed data from last night. He hopes to have it soon.
Howard has played more than Cameron Brate in each of the past three games.
Joe's not thinking about Howard's future today or his cash value. That's almost meaningless in mid-October. Joe's interested whether Howard can be a key contributor. He's certainly trending in that direction as Rob Gronkowski nurses his ailing ribs.