Tom's Thumb
October 15th, 2021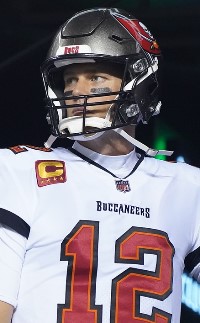 No, the root cause of three bad passes in a row late in the first half doesn't have to be the bad thumb of salad-bar-hating, park-violating, home-invading, NFLPA-ignoring, down-forgetting, handshake-stiffing, jet-ski-losing, biscuit-baking, tequila-shooting, smartphone-phobic, waffle-grilling, trophy-throwing, roller-coaster-scared, numbers-rules-peeved, helmet-tossing, football-punting, Bucs-Super-Bowl-winning quarterback Tom Brady.
Who said? Bucs Super Bowl-winning coach Bucco Bruce Arians, that's who said.
At halftime of the NFL Network broadcast last night, just after Brady's string of pass attempts without a pick was snapped at 227, FOX Sports' Jay Glazer was asked about Brady's right thumb.
"It's just a ligament," Glazer quickly said of the injury suffered Sunday against Miami.
Yeah, "just."
So when Brady had those three bad passes in succession and the passing game seemed to erode in the second half, Joe put two-and-two together and thought perhaps Brady's thumb was acting up and affecting his throws.
After the game, Arians said there was nothing wrong with Brady's hand.
"No. Nothing whatsoever," Arians said.
Notorious for not wanting to talk about injuries, and a man who has admitted 90 percent of what he says in press conferences is nonsense, Brady almost seemed to imply he had no injury.
"Great," Brady said when asked how his thumb felt. "It felt great, awesome."
To be fair, on Sunday, Brady copped to and never tried to hide his bad thumb as he threw for five touchdowns and 411 yards.
So unless he reinjured the thumb last night, how hurt can it be?