Tom Brady Is On Pace For 51 Touchdowns & 5,525 Yards
October 24th, 2021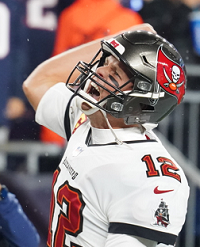 It was not Tom Brady's best day, but with the time Brady gets to throw and the weapons at his disposal, it just doesn't matter.
Brady finished with 4 touchdown passes against the Bears on 20-of-36 passing. Of course Brady didn't throw an interception; he has just three all season and only one since opening day.
Mr. Seven Rings is now on pace for 5,525 yards and 51 touchdowns this season
The Bucs' offensive line has been specatacular, and Joe believes they deserve a boatload of credit. Brady was hit just once today. Once!
A nitpicker would whine about the Bucs' second-half struggles in the red zone. Did they lose some motivation in the blowout? Is it more than that?
Hey, at least there's something to work on in practice this week.
Bring on the slimy Saints!