Tom Brady: Antonio Brown "Is A Football Genius"
October 11th, 2021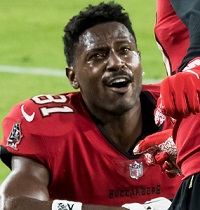 Joe's never heard Tom Brady or anyone else describe a wide receiver with this kind of language.
Sure, players are lauded for their "high football IQs" all the time, and every year there's a quarterback or two lauded for his brilliance on the whiteboard under pressure. But you don't hear the "G-word" thrown around from The Goat himself. And usually the word is reserved for a coach.
Asked about Antonio Brown's success in Tampa during Let's Go! on SiriusXM NFL Radio this evening, Brady seemed at a loss for words.
"He's a football genius. It's hard to explain to people," Brady said of Brown. "You know, and I'm someone who's been around some amazing players, it's hard to explain to others the way that he sees the game versus everybody else. He's truly a one-of-a-kind person, talent. I obviously admired him so much for what he did in Pittsburgh in his time there. He's come to Tampa. He's been focused completely on football and being a good teammate. All the guys really embraced him and really encouraged him at different moments. He's proven to everybody what he's still capable of."
Brown is on a roll. Brady is elite. The Bucs have won 12 of their last 13 and the Tampa Bay decision-makers have made a lot of teams look bad with the Brown signing and re-signing.
Joe hopes the genius Brady speaks of in Brown — hopefully he'll share details soon — rubs off on this great and young generation of Bucs receivers.