The New Fan Culture
October 10th, 2021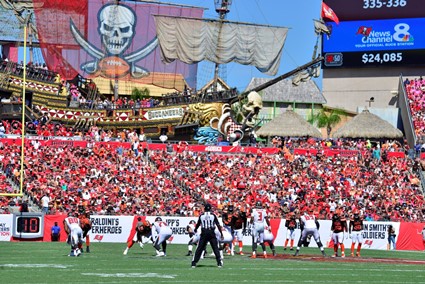 Along with legions of other Bucs fans, Joe is in what feels like new territory.
It's October and Joe can't find a Tampa Bay fan that expects the team to lose another game this month. Roll the Dolphins, get past the Eagles, trash the anemic Bears and then reveal that Jameis Winston isn't Drew Brees and hasn't raised the game of anyone around him. That will leave the Bucs at 7-1 at their bye week.
Nothing to see there. Nothing to high-five about. It's all expected.
Life as a Bucs fan wasn't like this 365 days ago.
The Bucs were an unknown quantity coming off an embarrassment to the Bears on Thursday Night Football. Tom Brady was struggling to connect deep and didn't know what down it was on a drive to win the game.
Now it's all confidence and chest-puffing about how great the Bucs are because they're shutting down opponents without even playing well. It's like fans are collectively set a metronome and are just waiting for a big game. It's probably why Derrick Brooks is calling for style points against Miami today.
Joe can get used to this approach. It's a byproduct of winning the Super Bowl and bringing back the whole team.
But damn, it sure feels strange following The Lost Decade and an uncertain start last year.