"I Think The Fans Think I Done Went Ghost Out There"
October 10th, 2021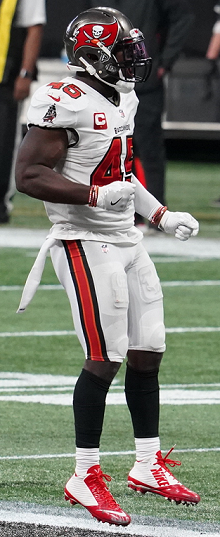 Devin White isn't the player he was last season — and White knows it.
White told All Things Covered that the greatness of the Bucs' run defense is the reason.
Nobody's running on Tampa Bay, White says, "no toss sweeps, no outside zones," because the team is so damn beastly in the running game. Bucs coaches were all over the defense about how New England would pound the rock last Sunday and commit to it, White said, but what happened? The Belicheats gave up on the run in a hurry and totaled -1 yards on the ground.
White says it all adds up to him being neutered when there's no rushing attack, unless a cornerback misses a tackle or he can make something happen in zone pass defense.
Apparently White hears the rumblings about his drop in production.
"I think the fans think I done went ghost out there. Like I ain't still that same dude," White said. "But I ain't had the opportunities because ain't nobody [running on us]."
Offensive coordinators aren't stupid. After two years of trying to run on the Bucs, the white flagged has been raised and teams are attacking Tampa Bay's pillow-soft pass defense. White noted how Cowboys running backs ran for less than 50 yards on the Bucs but Dallas has averaged nearly 200 yards per game on the ground since.
It's really up to Todd Bowles to counter what offenses are doing and not let his dynamic inside linebackers have their impact diminished.