"That's One Of Them Low Blows You Gotta Pull Out"
October 22nd, 2021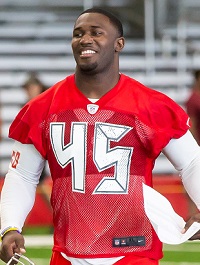 Buccaneers savior linebacker Devin White does more than just watch film to prepare for a football game.
White takes great pride in his trash talking. And while that isn't helping him get a tackle for loss, a sack or a forced fumble this season, it's not for a lack of trying.
White told the All Things Covered podcast recently that he is the top trash talker on the Buccaneers and he goes the extra mile to get in an opponent's head. In fact, White said he will study the names of players' wives on social media so he can bust out first names in the heat of battle.
"That's one of them low blows you gotta pull out," White said.
Judging the reaction of co-hosts Patrick Peterson and Bryant McFadden, that's not the norm in the NFL.
That makes sense. It's one thing to tell a guy his mama is ugly, it's another thing to use her name.
White added that he gets a share of trash talk thrown back at him, noting former Saints and current Bills receiver Emmanuel Sanders is one of the best in the game. And the Bucs' Super Bowl linebacker said he's gotten his share of horse-related smack fired his way this season.
Joe supposes that's what happens gallop around the Super Bowl field holding the Lombardi Trophy.