Stephon Gilmore Goes To … The Panthers
October 6th, 2021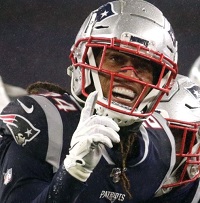 The dream for many Bucs fans is over.
Word broke this morning that Patriots All-Pro cornerback Stephon Gilmore was done with the Belichates. And now it's official; he's a Stinkin' Panthers corner.
All it cost was a 2023 sixth-round pick, per ProFootballTalk.com.
Carolina is not messing around after starting 3-0 and falling to 3-1. The Bucs play Carolina in Weeks 16 & 18.