Speed Kills
October 18th, 2021
BY IRA KAUFMAN
Funny how time slips away.
No wonder Tampa Bay's offensive line is so appreciative of Tom Brady.
Since Brady's arrival, the guys up front haven't had to work as hard — or as long.
Yes, time always seems to be on Brady's side.
First things first.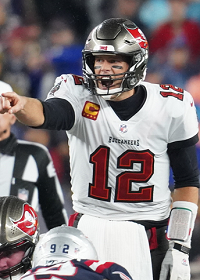 Guards, tackles and centers want to know where their quarterback is going to be, depending on the play call. Brady's whereabouts are no mystery. If the playbook says he's supposed to be at a particular blade of grass, that's where you'll find him.
He'll move off his spot if he has to, but that probably means somebody didn't do his job.
More importantly, by the time those sack-hungry marauders have closed in on Brady, the football's gone. They're too late … again.
"He is one of the greats," said Eagles defensive tackle Javon Hargrave after the Bucs beat Philadelphia 28-22 Thursday evening. "He gets the ball out quick. I mean, you don't have many opportunities to do it."
Since Brady replaced Jameis Winston under center, sacks have been very different to come by for opposing defenses.
Year          Sacks-allowed %                 League rank
2021                      3.23                                  third lowest
2020                     3.54                                  third
2019                      6.94                                 17th
2018                      6.16                                  12th
2017                      6.20                                  15th
2016                      5.71                                   16th
While it's true that Brady broke Brett Favre's mark as the most-sacked quarterback in NFL history, it's also true that he's historically difficult to take down. How can both be true?
Simple.
He's started more games and thrown more passes than anyone in league annals.
What matters most is Brady ranks ninth all-time in lowest sack rate (4.65 percent of passing attemps), including 14 seasons ranked in the Top 10 for hardest to sack. He's even more difficult to drop in the playoffs (3.9 percent), a key reason why he is 34-11 in the postseason.
"He gets the ball out fast, man," said Dolphins defensive tackle Raekwon Davis after the Bucs rolled up 45 points on Miami earlier this month. "He's quick. He reads coverages real nice."
Tampa Bay's offensive line has offered sturdy protection in 2021 as Brady suffered only nine sacks through a 5-1 getaway. But Brady's experience and preparation remains the key. Before the ball is snapped, the Brady computer is analyzing formations and tendencies at a dizzying speed.
Just ask Joey Bosa.
When the 2018 Chargers traveled to New England for a divisional round playoff game, Bosa was determined to put the heat on Brady in 26-degree Foxborough. Instead, Brady completed 34-of-44 passes for 343 yards in a 41-28 triumph that left Bosa grasping for superlatives.
At one point, he turned to Brady as both players jogged downfield.
"Stop throwing the ball so fast," Bosa said, prompting a grin from No. 12. When Bosa reached the bench, he turned to a teammate. "I was there in 2, 2 1-2 seconds," Bosa said, shaking his head. "The ball was long gone."
Constructing an effective game plan against Brady is a nightmare. The Eagles tried a soft approach Thursday, so Brady responded with long, time-consuming drives. Blitzing is risky because Brady senses where pressure is likely to come from and his quick release leaves defensive backs unsupported.
Even Aaron Donald has struggled to make his presence felt against Brady.
In four matchups, including Super Bowl LIII, Donald has sacked Brady once and registered a mere three hits. He joins a long list of elite pass rushers who have fallen short of the promised land.
Bosa summed up the quest succinctly.
"That Tom Brady," Bosa said. "He really is ridiculous."
Ira Kaufman Dives Headfirst Into The Jon Gruden Mess On His Latest Podcast.