LB Coach Says Pass Rushers Got Off Their Game Against Bears
October 28th, 2021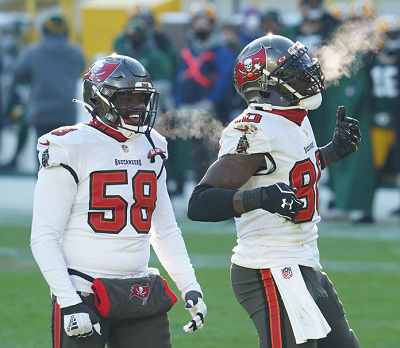 That leaky Bucs run defense against the Bears, not the leakage Bucco Bruce Arians talked about, is tied a bit to the Bucs' pass rush.
That's the word from the man tasked with coaching Tampa Bay's edge-rush beasts, outside linebackers coach Larry Foote.
He joined the Buccaneers Radio Network this week and explained there was a little too much sack-salivating going on Sunday.
"We had sacks early on and then they started playing the pass more than the run a little bit during the game," Foote said. "Like in the NBA, you hit that three early in the first quarter, you shoot threes the whole game. So I gotta, you know, bring them guys got in."
Footed noted that everyone knows what sacks equal — demand for your services. "In this league, really, each sack is a million dollars, you get 10 a year. you get $10 million a year."
Joe is confident the Bucs will get back to their typical run-suffocating ways on Sunday in New Orleans. Any lost focus should evaporate.
The Saints' offense revolves around elite running back Alvin Kamara, and New Orleans just traded for three-time Pro Bowl running back Mark Ingram. Plus, America's Quarterback, Jameis Winston, has transformed into a high-efficiency Mike Glennon since starting for the Saints, averaging less than 200 yards passing per game.