Bruce Arians Struggling With "Leakage"
October 27th, 2021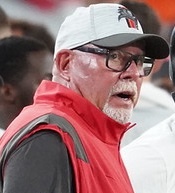 Sage of Tampa Bay Sports Ira Kaufman, the iconic JoeBucsFan.com columnist, has been quoted saying that "leakage" is an uncomfortable word for any senior citizen.
Joe's not sure what that means and doesn't want to know. But Bucs fans' favorite senior, Bucco Bruce Arians, was talking about it yesterday on the official Buccaneers streaming/radio/YouTube show he joins each week.
Arians was lamenting the Bucs' multiple failures with the ball very deep in Bears territory. It was as if the Bucs' offensive line didn't feel like mauling at the goal line and Tampa Bay fans got a brief flashback to 2014.
The Bucs' needed to come off the ball with "better coordination," Arians said.

 "We quit scoring down there when it was easy. … Both those plays down there, we let too much leakage come in at the point of attack."
The head coach explained how the Bucs came out in no huddle in the second half to tire the Bears and tried to really put the game away offensively after leading 35-3 at halftime. But the Bucs scored just three more points.
Well, the leakage must end quickly on Sunday. Joe is confident it will, as the Bucs' offensive line is one of the best in the game.
The best way to disarm the Saints is to get an early lead and make them one dimensional. That means Jameis Winston, who averages under 200 yards passing per game, will be forced to throw. And that's exactly what Sean Payton doesn't want him to do, as anyone watching Saints game this season knows very well.