Keyshawn Johnson Reveals A Piece Of Bucs History
October 16th, 2021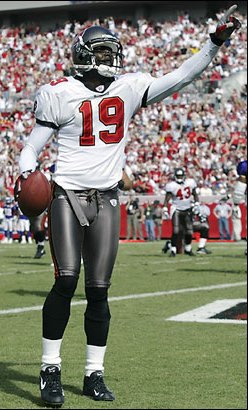 During the aftermath of Jon Gruden's football career crumbling this week, former Bucs great Keyshawn Johnson revealed an interesting nugget of Tampa Bay history on ESPN TV.
Johnson is now a major personality ot BSPN after his stellar 11-year wide receiver career (1996-2006). But it seems that career could have extended at least one more season — in Tampa for the 2007 NFC South champs.
Johnson was talking on air this week about how Chucky was all about winning and his own needs, and a bit of a fraud otherwise. Their relationship fell apart when Johnson was in Tampa (as old school Bucs fans know), but Johnson said they were on good terms (not buddies) as colleagues at BSPN.
He told a story of Chucky and then-Bucs-general-manager Bruce Allen calling him after the 2006 season and asking him to unretire and play for Tampa Bay. It seems Chucky preferred Johnson over fading-fast receiver Michael Clayton.
The Bucs already had stud receivers Ike Hilliard (3rd-and-Ike!) and Joey Galloway, and Joe suspects Chucky saw Johnson as the ideal No. 2 receiver in that mix.
Johnson said he was done at 34 years old and he had no interest.
Bucs fans know how the 2007 season went. Tampa Bay's passing game was mediocre, though starting QB Jeff Garcia made the Pro Bowl because he only threw four interceptions. And the Bucs crumbled at home in the opening round of the playoffs to a physical Giants team that soon after won the Super Bowl.
Might that Bucs-Giants playoff game been different with Johnson on the field?
Also interesting was Johnson sharing how Chucky called him when he took the Raiders job in 2018 to get his take on personnel and a potential coach that Johnson knew.
Johnson said it was an hour-long phone call and it was classic Chucky — because Johnson believed Chucky had no interest in his take on personnel and just wanted to learn about the potential coach.