"It Started Off As A Joke"
October 22nd, 2021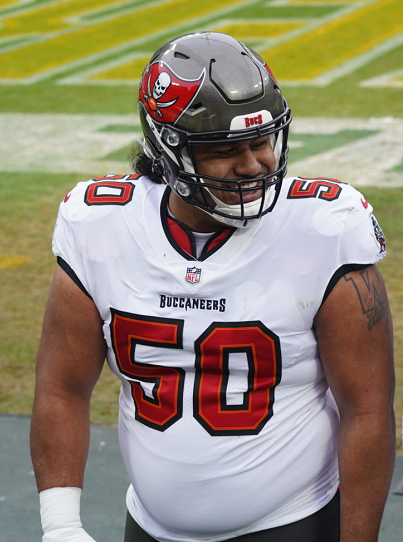 A new twist to the Vita Vea story was revealed recently.
And it came from Vea himself. The manbeast of manbeast nose tackles is a favorite player of national radio and TV host Jim Rome. Vea was a guest on The Jim Rome Show and explained how he wasn't supposed to play against the Packers in the NFC Championship game.
Vea was rehabbing his broken ankle and the team's plan for him was to return for the Super Bowl, if the Bucs got there, he said. But Vea marched into One Buc Palace after the Bucs beat the Saints in the NFC Division round and told team officials he was playing against the Packers.
If they wanted him in the Super Bowl, Vea said, then he needed a few snaps against Green Bay.
"It started off as a joke," Vea said, but the Bucs put him through a rigorous day of cardio on Tuesday following the Saints game, the players' off day. Vea said that was critical but difficult. He previously hadn't put real weight on the ankle; he didn't consider treadmill work to be real running.
As the NFL world knows, Vea indeed played against Green Bay, about 3 1/2 months after shattering his ankle. He said he wasn't supposed to play 33 snaps but coaches just kept putting him out there.
Ironically, now-healthy Vea has only played more than 33 snaps in half of the Bucs' six games this season.
It drives Joe nuts that Vea doesn't play more, but Joe suspects that will come when the games are more critical.