60 Minutes From Franchise History
October 22nd, 2021
BY IRA KAUFMAN
@ikaufman76
To say the Chicago Bears are saddled with a pedestrian offense is simply unfair … to pedestrians.
With scoring up all over the National Football League, Tampa Bay's upcoming opponent is still trying to figure out how to move the football. Somehow, the Bears are 3-3 despite ranking last in total offense. What's worse, the City of Broad Shoulders has been dealing with this issue for a generation.
The Bears have exactly one Top 10 finish in total offense in the past 21 seasons. Matt Nagy, who learned his trade under Andy Reid in Kansas City, was expected to spruce up Chicago's attack when he was named head coach in 2018.
It hasn't happened — and things could get a lot worse Sunday at Raymond James Stadium.
Chicago's ground game is decent, but nobody runs on the Bucs. Most teams don't even try, but Nagy may have no choice because Justin Fields isn't doing much damage through the air.
The Bears average only 16.3 points per game, which is half of Tampa Bay's average scoring rate. They've topped the 20-point mark only once in six games and Chicago is particularly lousy on third down, converting only one-third of the time.
"I think we're working through all that right now," Nagy says. "We're not scoring enough. You need to score more, we understand that. How we get to that, we're going through that identity."
The Bucs played stout defense in Philadelphia before losing their focus and allowing Jalen Hurts and the Eagles to make things uncomfortably close. Here comes another young quarterback with superior mobility and a suspect arm.
A Numbers Story
Fields is completing only 53.5 percent of his pass attempts. That's an astonishingly low success rate and there's no reason Todd Bowles should implement soft coverages to protect an injury-riddled secondary.
You know how many touchdown passes the Bears have as a team?
Three.
Besides his imprecise throws, Fields is a human sack machine. He can hurt you with his legs, but Fields has been sacked 18 times in 99 pass attempts. Tom Brady has been dropped nine times in 267 throws.
"Now it's like, within that identity, what else do we need to do to complement that, and how are we going to get to that point?" Nagy says. "We're working through all that. And now we've got a big challenge ahead of us in Tampa Bay."
Chicago's quest for reliability under center has reached absurd proportions. Since Jim McMahon was traded to the Chargers in 1989, here's the rogue's gallery of starting quarterbacks for an iconic franchise:
Mike Tomczak, Jim Harbaugh, Steve Walsh, Erik Kramer, Dave Krieg, Shane Matthews, Cade McNown, Jim Miller, Kordell Stewart, Chad Hutchinson, Kyle Orton, Rex Grossman, Brian Griese, Jay Cutler, Matt Barkley, Mike Glennon, Mitch Trubisky and Fields.
You can't make this stuff up.
The Bucs are favored by 12 1/2 points and there's no reason the Bears should score more than 14. Their best running back, David Montgomery, is out with a sprained knee.
Brady, who approaches every matchup like it's the Super Bowl, enters with extra motivation because he lost track of downs in last year's sloppy setback at Chicago.
The Bucs were undisciplined that night at Soldier Field and they currently lead the NFL in penalty yardage. Ten of Tampa Bay's 47 flags are for pass interference, which also tops the league. The Eagles benefited from a pair of DPI flags against the Bucs last week, totaling 95 yards.
Given the sad state of Chicago's offense, the Bears will need every break they can get Sunday. If Tampa Bay doesn't provide short fields, penalties and giveaways, Mr. Fields should endure a long day.
And the first 6-1 start in franchise history will be in the books.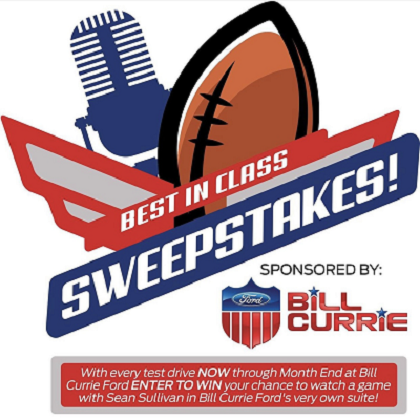 Watch a home game in style!!
Test drive a vehicle this month at Bill Currie Ford one mile north of the stadium on Dale Mabry Highway and make sure to say you want your name in the mix for the Best In Class podcast sweepstakes. It's that simple. GM Sean Sullivan is fired up to watch a game with you in a suite and talk Bucs!