Ira Kaufman's 10 Takeaways From Bucs-Bears
October 24th, 2021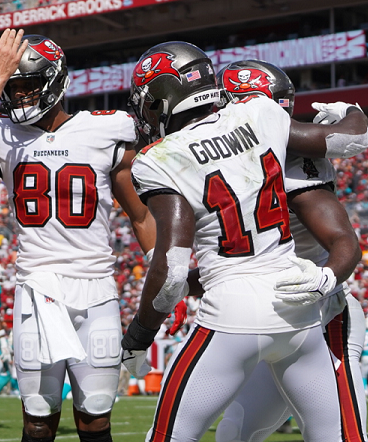 BY IRA KAUFMAN
Derrick Brooks went to bed a happy man Sunday evening.
Tampa Bay's Hall of Fame linebacker wanted to see style points from the Bucs, who were heavy favorites against the visiting Bears. There were style points along the way and 38 points on the Raymond James Stadium scoreboard en route to the first 6-1 start in franchise history.
This one was over before thousands of Chicago fans in attendance had time to down their first brewski. A long punt return and an interception set up short fields for a 14-0 advantage by the 11-minute mark.
The rest of the afternoon was spent seeing Mike Evans beat a series of double teams in the end zone and watching Jason Pierre-Paul chase Justin Fields all the way to Riverview.
The first half was a glimpse of what this team is capable of in defense of a championship. The 35-3 lead at intermission represented the most first-half points ever scored by the Bucs. The only issue remaining was deciding how long Bruce Arians would stick with Tom Brady, who had already thrown four TD passes from inside the 10-yard line.
Can you imagine flying in from O'Hare and donning a Khalil Mack jersey to watch this claptrap? After viewing a beatdown this absolute, some Chicago fans are returning to the Windy City Monday with a compelling question: how did this team win three of its first six games?
Here's how the Bucs tuned up for a Halloween matchup against Jameis Winston and the Saints:
* The field position battle was incredibly one-sided. Five of Tampa Bay's eight first-half possessions began in Chicago territory. The best start for the Bears in their 13 possessions was their own 35.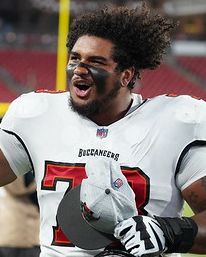 * The opening half was a modern-art masterpiece for the home team. The Bucs had zero giveaways, allowed zero sacks, committed zero penalties and didn't allow Chicago to convert any of its seven third-down situations. Without the stout running of Bears rookie Khalil Herbert, who gained 91 of his 100 yards in the first two quarters, it could have been even more lopsided.
* Bucs rookie Jaelon Darden set the aggressive tone from the start with a 43-yard punt return to the Chicago 32, setting up Leonard Fournette's 2-yard scoring plunge. Before Darden's burst, the Bucs had been averaging less than 7 yards per punt return, so it was a timely contribution for Keith Armstrong's special teams unit.
* Don't look now, but Evans is on pace for 17 TD catches. He scored three times on Sunday, despite attracting plenty of attention in the red zone.
* It helps to be plus-4 in turnover differential as the Buc defense swallowed Fields whole, sacking him four times and posting three interceptions. Credit a relentless pass rush led by JPP, who finished with two sacks, 2 QB hits and a forced fumble despite not practicing all week. To say this guy is an athletic freak may be an understatement. Arians, who has been around plenty of special players, said Pierre-Paul is one of a kind.
* This Buc ground game is a gas, gas, gas. Fournette, Ronald Jones and Ke'Shawn Vaughn combined for 171 yards in 30 carries. Each back ripped off a gain of at least 15 yards and as a result, Brady attempted only 36 passes. That's more like it.
* Speaking of No. 12, why was he still in the game early in the fourth quarter, throwing three times during a drive that ended with a Ryan Succop FG and a 38-3 lead? It was a risk, and an unnecessary one, involving Tampa Bay's franchise player.
* With Antonio Brown and Rob Gronkowski sidelined and Scotty Miller still unavailable, Evans and Chris Godwin combined for 21 targets. They responded with 14 receptions for 187 yards and four scores. Just a little reminder about the incredible depth of weapons surrounding Brady.
* Many in the crowd arrived early, waiting two hours before kickoff for the gates to open. Chicago fans were plentiful and you could see a widespread migration to the beer stands as the opening quarter proceeded.
* The Bucs will head to the Superdome with an opportunity to open up at least a 2 1-2 game lead atop the NFC South before the bye week. They're outscoring opponents by an average margin of 12 points per game and boast a plus-7 turnover ratio.
At this point, you have to like their chances to run it back.
Watch a home game in style!
In a suite — food and drink included!

All you have to do is test drive a vehicle this month at Bill Currie Ford one mile north of the stadium on Dale Mabry Highway. Make sure to say you want your name in the mix for the Best In Class podcast sweepstakes. It's that simple. GM Sean Sullivan is fired up to watch a game with you in a suite and talk Bucs!!
---