A Whole New World
October 24th, 2021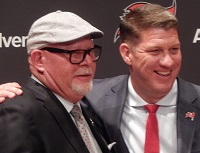 Regular readers here know Joe doesn't pretend to be neutral in any way.
Joe wants the Bucs to win at all costs — even if that means tanking for a draft pick. Joe started this site 13 years ago as a fan looking to have fun, maybe earn a little beer money and to escape boring mainstream media.
Back then, the Bucs were a good and proud football team fresh off the NFC South crown and disappointing playoff exit of the 2007 season.
Team Glazer was in hot pursuit of Brett Favre (they just missed) and the 2008 team had a lot of promise behind lots of veteran talent and coaching. That '08 team started with 9-3 record and then the wheels fell off — for the next 11 years.
So Joe is among the masses so appreciative of what the Bucs have done over the last 27 games that it's almost hard to accept as real.
Frankly, Joe barely knows how to behave on a daily basis with a Bucs team that is downright dominant with extraordinary expectations.
It's exciting and not exciting at the same time. Sometimes Joe feels like the Bucs have been in the midst recently of an almost boring march to next Sunday's Saints game, one in which the Bucs will be favored at the Superdome.
Today's halftime lead was 35-3 against Chicago at The Licht House. It quickly had Joe remembering how the Bucs trailed 38-0 at halftime during an October game against the Ravens in 2014.
Mike Glennon was starting and, well, you know the rest.
That loss came a few weeks after the Bucs trailed 35-0 to the Falcons on national television. For that game, Joe sat directly in front then-rookie general manager Jason Licht at that game in Atlanta. Talk about awkward!
Damn, the Bucs have come a long way, from the bullied to the bully.
If the Bucs find a way to punch the Saints in the mouth on Sunday, Joe might actually get used to this wonderful new world.