Bucs At Slimy Saints, TV Map
October 30th, 2021
Will you get to see the Bucs play in the spooky French Quarter tomorrow against the slimy Saints on your local FOX affiliate? Don't be scared, click below. Joe is here to help.

Once again, most of the nation will have free access to the Bucs-Saints game at 4:25 p.m.. The problem with this start time is you will be half-drunk on Big Storm Brewing beer in the second half when the ghouls and gremlins start knocking on your door.
Yes, America likes the Bucs.
FOX is sending half of its heavy-hitters to New Orleans to eat first class cajun food call the game. Troy Aikman will be there but Joe Buck will be in Atlanta to call the World Series. Poor Joe Buck.
Of course, Bucs fans can head to Big Storm Brewery in Clearwater, Odessa, Cape Coral or downtown Orlando at the Amway Center to watch the game. Naturally, visiting your neighborhood Hooters is always a wise move. Bonus: Select Hooters in Florida carry Big Storm beer on tap!
(Streaming information and options will be included in the "Gameday Tampa Bay" post scheduled to publish here at midnight.)
As always, TV coverage maps are courtesy of 506sports.com.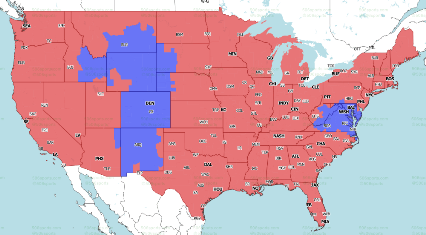 Red: Tampa Bay @ New Orleans
Blue: Washington @ Denver
---
What's going on here?
Derrick Brooks picks the Saints. And he's serious!
It's another can't-miss TAMPA TWO episode with Buccaneers legend Derrick Brooks and The Sage of Tampa Bay Sports, Ira Kaufman. All the fun is courtesy of The Identity Tampa Bay and Joe.