Bruce Arians: Run Game Led To Man Coverage On Receivers
October 10th, 2021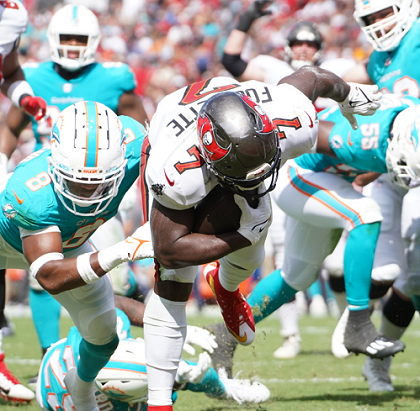 That's two weeks in a row now that the Bucs have run the football like they did during their dominant Super Bowl run of last season.
Leonard Fournette was the clear No. 1 running back again, carrying the load and finishing with 12 carries for 67 yards and a touchdown scamper before the blowout was in full force.
Ronald Jones had 5 carries for 21 yards and Giovani Bernard had 4 carries for 21 yards in mop-up duty.
Bucco Bruce Arians said the run game was the key to Tampa Bay's arial explosion. He told the Buccaneers Radio Network after the game that the rushing success led to more man coverage on receivers. Speaking of man coverage, Antonio Brown and Mike Evans combined for 13 catches for 237 yards and 4 touchdows.
Miami normally plays a lot of man defense, but it's never expected to be seen a ton against the Bucs unless an opponent has elite cornerbacks.
With a strong run game, the Bucs offense is ridiculously lethal and diverse. That was on display today.