Bruce Arians Reviews Richard Sherman
October 13th, 2021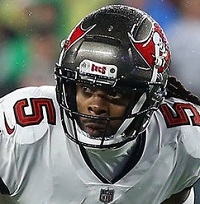 Man, Joe is fired up to see the Week 3 edition of legendary cornerback Richard Sherman in a Bucs uniform.
That rust should be coming off very soon.
And it sure has been a lot of rust. Sherman has looked more like E.J. Biggers or 32-year-old Darrelle Revis in a Chiefs uniform than an All-Pro cornerback.
Bucco Bruce Arians was asked on Buccaneers Total Access last night whether he's seen improvement in Sherman and progress since his opening game against the Belicheats.
Arians was lukewarm but optimistic.
"Yeah, he missed a couple of tackles [against Miami] he doesn't usuallly [miss]," Arians said. "He's a really a good tackler. And I think that part of it is going to come, come, come — get better and better. And as, you know, we expand the game plan a little bit more each week the more they get accustomed to what we're doing and seeing what he can do, too."
Joe asks the football gods daily to reunite all the Gravediggers and restore them to health.
In the meantime, hopefully Sherman can hold down the fort against a string of lesser quarterbacks and questionable receiving corps.