Bruce Arians: Jaelon Darden Will Take Over Returner Role
October 21st, 2021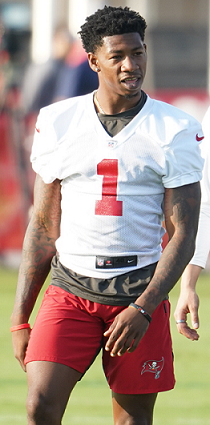 It's go time for Jaelon Darden — Act II.
The Bucs' rookie fourth-round pick isn't about to crack the mighty Bucs lineup at wide receiver, but he's getting a second shot at the returner job on Sunday.
Jaydon Mickens, the Bucs' Super Bowl returner, was the go-to guy to open the season. Then Darden got a shot against the Rams and didn't do anything with one punt return opportunity and two shots at kickoffs. So the Bucs went back to Mickens.
But Mickens got cut early this week and was re-signed to the practice squad already, though it seems he will not be getting a late-week call-up to the roster.
Arians said it's back to Darden on Sunday at The Licht House against Chicago. "He'll break out this week as our punt and kick returner."
Darden clearly has strong short-space quickness, but it seems he needs work on catching the ball and just exploding straight ahead, hitting a hole and trusting his instincts.
Joe has a feeling the Bears will be punting a lot on Sunday, so Darden was a given a great week to re-establish himself.