Bruce Arians: Jaelon Darden Will Expand His Role
October 26th, 2021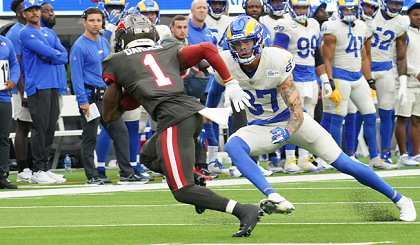 The reason the Bucs pulled rookie Jaelon Darden off the bench against the Bears was explained this evening.
Bucco Bruce Arians himself said why the Bucs made the call to cut Super Bowl returner Jaydon Mickens and go with their fourth-round pick on kicks and punts — and a few times on offense.
"He's ready," Arians said of Darden on his official Buccaneers radio/streaming/YouTube show.
"You know you watch young guys perform in practice and keep moving and going forward."
On benching Jaydon Mickens, "Jaelon is just so much more explosive," Arians said.
And the head coach likes the potential of what Darden can deliver on offense. Darden had 1 rush for 11 yards.
"He could start his role and expand it," Arians said. "He's got special quickness and explosiveness. It's very rare."
Of Darden's 43-yard breakthrough punt return on Sunday, Arians said Darden got winded and stopped before he could do more damage. The head coach suspects a touchdown will happen the next time Darden breaks one.
The Bucs haven't had a special returner since Clifton "Peanut" Smith made the Pro Bowl as an undrafted rookie in 2008.
Act II of Micheal Spurlock was exciting, as was whenever DeSean Jackson felt like running one back for the Bucs. Of course, as Bucs fans remember, Jackson made those decisions rather than the guy in charge.