Bruce Arians: Belichick Did Nothing Different
October 7th, 2021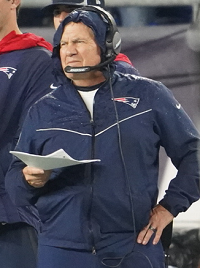 So much for the Patriots' defensive mastermind.
What did he do versus Tom Brady that was so special and unique on Sunday? Joe wasn't seeing it, and neither was Bucco Bruce Arians.
Of course, the iconic defensive is Bill Belicheat.
Arians was asked point blank this week on SiriusXM NFL Radio to note what sort of unique and different looks he got from the Belicheat defense.
"I didn't see anything different than [when] we had played them for the last 10 years," Arians replied without hesititaing.
Yes, lots of coachspeak comes from Arians and most head coaches deliver more than he does. But Arians was talking on radio to his former boss and current friend Bill Polian, the Hall of Fame general manager. Arians isn't one to fire a bunch of BS in Polian's direction.
Arians did note that the guy given opportunities by the New England defense — and via his play — is Antonio Brown. He had a shot for a 150-yard night, per Arians, but penalties and non-catches/drops cut that number significantly. "We just didn't make those plays which we've been making," Arians said.
Joe was intrigued to hear Arians say Belicheat served up nothing special.
Yes, New England once double-teamed Bucs backup tight end Codey McElroy in the red zone, but that's more of a decision than a unique look.