Brady Named NFC Offensive Player Of The Week
October 13th, 2021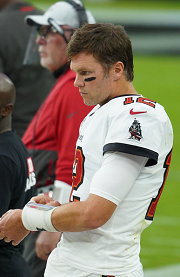 As well as Tom Brady is playing, on pace for 6,011 yards and 51 touchdowns, this doesn't even feel like news.
But Brady officially has been named NFC Offensive Player of the Week. (Not the award sponsored by a shipping company.)
Bucs punter Bradley Pinion won Special Teams Player of the Week to start the season, and safety Mike Edwards earned the major defensive honor for his two interceptions in Week 2.
Now Brady gets this award for the second time in his Tampa Bay career. The last time was Week 4 of 2020 for his five-touchdown, comeback-win against the Chargers.