Tom Brady Explains "The Real Rob Gronkowski's Back"
September 14th, 2021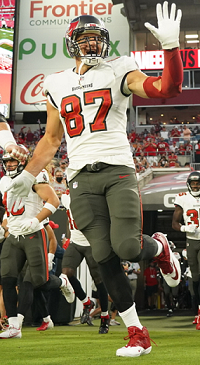 This should make Bucs fans' mouths water.
There's no question that Rob Gronkowski is a Hall of Fame tight end, and he's in the conversation about greatest tight ends of all-time.
But what version do the Bucs have with 32-year-old Gronk?
Tom Brady spoke last night on SiriusXM Mad Dog Radio and explained that superstar Gronk is back physically and mentally.
"When I see him play now, the real Rob Gronkowski's back," Brady began. "The spirit of him, which makes everyone love him as a person, as a teammate, as a player. That spirit that he has in his eyes about his joy of life, his joy of football, is back. And when I see him play the other night, that's his most authentic self. And for someone who's watched him for a long time, he had it, it faded away and he ended up retiring because he didn't find the joy that he had. And to see him regain it is one of the really great satisfying things for me in pro sports. …

"He had a great Super Bowl. He had a great offseason. He had a great training camp. I knew he was poised to have an incredible night the other night."
Powerful stuff right there, and Brady added that Gronk's "football IQ is off the charts."