The DeSean Jackson X-Factor
September 25th, 2021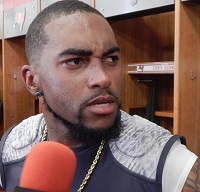 So when the Rams go four-wide tomorrow, who will cover frustrated speedster receiver and former Bucs locker room disrputor DeSean Jackson?
The 41st-leading receiver in NFL history (10,677 yards), is yearning to be more involved in the Rams' offense, he said this week. And his head coach, Sean McVay, added that he needs to get Jackson more invovled.
Running against the Bucs is foolish for any opponent, so there's a great chance 34-year-old Jackson will get a good amount of work against the Bucs in four-receiver sets.
Jackson has just two targets this season in two games; he caught both balls for a combined 21 yards.
Given that Jackson cared about the Bucs when he was on the team about as much as Joe cares about college swimming, it would be awfully annoying if Jackson is effective against the Bucs. And yeah, Joe suspects Jackson's competitive fire will burn a little hotter tomorrow.
So Joe asks again, who in the Bucs secondary can hang with Jackson deep if Carlton Davis is busy with the Rams' top receivers?