The Best Of Both Worlds
September 9th, 2021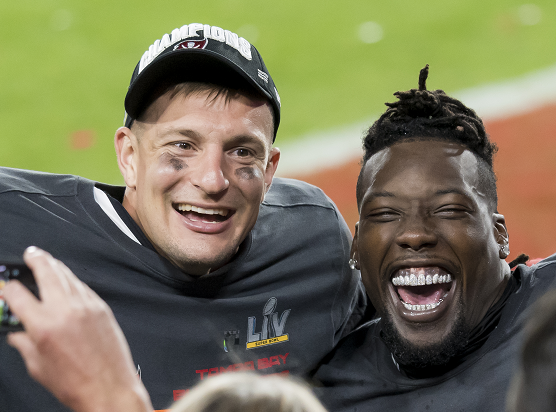 Reading this got Joe so friggin' worked up, Joe almost needed a drool towel.
Not in Joe's wildest dreams could this stacked and loaded Bucs roster have appeared. It's crazy AF.
Over at BSPN, spreadsheeter Mike Clay ran numbers that tell him the Bucs are the most complete team in the NFL.
Why is that? Well, he predicts the Bucs will end the 2021 season just eight points shy of the Chiefs for the team that scores the most points.
Tampa Bay Buccaneers: 469 points

The Buccaneers ranked third in this category last season and went on to win the Super Bowl. Of the 16 Bucs who played at least 220 offensive snaps (12,802 combined) for that team, all 16 remain on the roster. That is an unheard-of lack of turnover and sets up Tom Brady and Tampa Bay for another high-scoring season.
Clay's figure comes out to 27.6 points per game. The Bucs averaged over 30.8 a game last year.
If the Bucs brought everyone back and Tom Brady has a full season with Bruce Arians' offense and 17 games with Antonio Brown and a reborn Playoff Lenny, shouldn't the points be higher?
OK, so what about the defense? Clay thinks the Bucs will have the stingiest defense in the NFL this fall.
Tampa Bay Buccaneers: 352 points

Seven teams allowed fewer points than Tampa Bay last season, but it is fair to think the Bucs will be even better in 2021. Consider last season, 19 Buccaneers played at least 59 defensive snaps — 13,908 combined. All 19 remain on the roster. Same as with the offense, the lack of turnover — as well as the addition of 32nd overall pick Joe Tryon-Shoyinka — suggests a loaded defense, which also includes Vita Vea, Shaquil Barrett, Lavonte David, Devin White and Carlton Davis, will be one of the league's best in 2021.
So Joe did some quick math and this comes out to just under 21 points a game. As potent as the Bucs' offense is, holding opponents to under 21 points a game ought to result in quite a few wins.
Tampa Bay allowed 22.2 points per game last season.