Sloppy Bucs, Confident Bucs
September 10th, 2021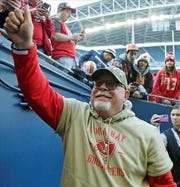 Longtime Bucs fans know what happens when you ring up 11 penalties for 106 yards and four turnovers.
New Bucs fans know a different vibe.
The horror of those kinds of numbers usually get you beat.
Not tonight.
As former Bucs tight end and team radio analyst Dave Moore noted, "ultimately it's a game where [the Bucs] were self-descructing." But the Bucs have Tom Brady, who had a fantastic night.
After the Bucs fell behind late in the fourth quarter, per Bucco Bruce Arians, there was no panic. "Ton of confidence on the sideline that we were going to make plays to win the game," Arians said.
And the Bucs made those plays. Moore credited Brady for his work all night. "The accuracy is ridiculious," he said.
Arians also praised his night of very special play on special teams. He dropped love on Bradley Pinion, Jaydon Mickens and, of course, the ice man on the final kick, Ryan Succop.