Ryan Succop Activated From COVID List; Bucs Add Safety Net
September 2nd, 2021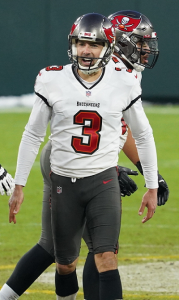 It seems the man who ended the Bucs' gruesome kicker curse, has recovered from The Sickness (if he was even sick) and has been activated to Tampa Bay's historic 53-man roster.
What a joyous day it is to have veteran kicker Ryan Succop back on the practice field. He is a critical piece of the puzzle. If you don't buy that, then Joe can't help you.
Also made formal today is the addition of safety Andrew Adams to the practice squad.
The 28-year-old spent the last three seasons with the Bucs and played in nearly every game before bolting for the Eagles in free agency. Philadelphia cut him after training camp. That's some serious experience and system knowledge making NFL peanuts while he waits for an emergency.