RoJo Can Learn From Chris Godwin
September 13th, 2021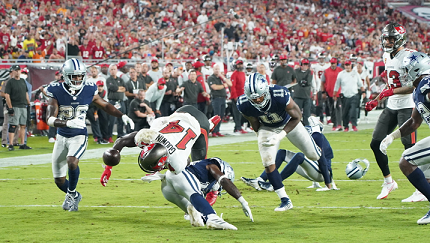 Lost in the ecstasy of the Bucs' thrilling victory on their final drive was the mental fortitude of Chris Godwin again on display.
Bucs fans saw Godwin drop key balls in the playoffs last season, but Tom Brady and Bucco Bruce Arians never lost confidence in him. Godwin quickly got chances to redeem himself and he did.
Fast-forward to Thursday and Godwin's fumble at the 2 yard line with 5:04 remaining (see Joe's photo above). it was a nightmare that nearly cost the Bucs the game. But who was the target on the next drive, the game-sealing deep ball? It was Godwin.
Contrast that to the Ronald Jones saga. He fumbled early in the game and got buried and outed by his head coach to the media.
RoJo had fumbling challenges last season and folks at One Buc Palace reacted then like RoJo needed serious attention to his psyche.
Joe hopes Godwin rises up to talk things out with RoJo, or that Bucco Bruce Arians puts them together so Godwin can lecture on resiliency.
Clearly, the important coaches believe RoJo needs help there, and Joe can't think of a better Buccaneer than Godwin to have an impact on his teammate.