No Wavering From "Undefeated" Prediction; Secondary "Weak Link"
September 8th, 2021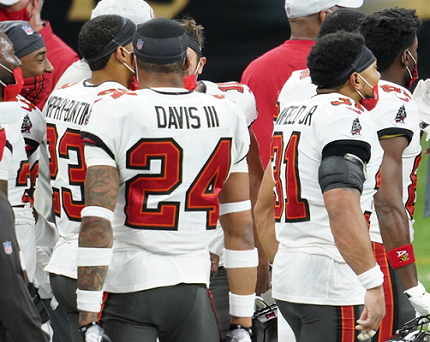 It's been four full weeks since a former Buccaneers standout was adamant that Tampa Bay will go undefeated this season.
Yeah, Joe's talking about blocking icon and 2004 superstar Michael Clayton.
A month ago, Clayton was all about how newcomer running back Giovani Bernard will complete the Bucs offense and kick it up a notch. Yesterday, on WDAE radio, Clayton took everything a step further.
He insisted the Bucs' aerial attack "will not be able to be stopped" after watching them in August. He also thinks offensive coordinator Byron Leftwich will need a little time to figure out how "utilize all three [running] backs to keep the chains moving." But when Letwich gets it down relatively quickly, per Clayton, the Bucs will be totally lethal.
Clayton also cited Todd Bowles' improvement and Bowles improvement and understanding of players. And he likes Jason Pierre-Paul as the "ultimate pro" in the Bucs defense.
A weakness?
Claytong believes the Bucs' secondary is suspect after "up and down" play last season. He likes how they tackle in the run game but says he has to see more consistency in coverage.
"That's going to be our weak link starting off the season, to see where they are," Clayton said.
Remember, this is all Clayton nitpicking. He remains adamant that the Bucs will run the table to a 17-0 record.