New Buccaneers License Plate Available
September 2nd, 2021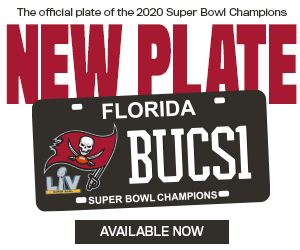 Joe prefers to celebrate the Bucs' Super Bowl victory every week with Florida's best craft beer, aka Big Storm Beer.
However, there are other methods.
One new way to savor the glory is a commemorative Florida license plate purchase that also throws money to charity.
The annual cost for the plate registration at your local motor vehicle fleecing center is $25 on top of the usual plate switch out and state registration fees.
Cash generated by specialty plate sales will benefit the Tampa Bay Buccaneers Foundation, which does a lot of great work.
Joe's wondering how long it will take for a Tom Brady plate to emerge, or an Antoine Winfield-Tyreek Hill deuce plate to raise money for cocky athletes that have spiraled into deep depression.