Ndamukong Suh Off COVID List
September 6th, 2021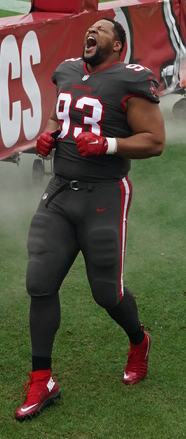 The expected move is now official, Ndamukong Suh is not longer on the outcast list with The Sickness.
Suh had tested positive and missed the Bucs' final preseason game as a result.
Was he ill? Was he able to train during his 10-day absence? Might he be a little weakened? Joe doesn't have the answers.
So Suh's performance on Thursday will be a little something to watch. Joe is not concerned regardless, as Joe believes the Bucs can pound the snot out of the Cowboys without Suh playing.
The corresponding roster move to make room for Suh was to ditch the second kicker, Jose Borregales.
Joe believes the Bucs held Borregales sort of hostage to limit his chances of signing elsewhere. Look for Borregales to land on the Bucs' practice squad later this week.