"If There's One Flaw"
September 3rd, 2021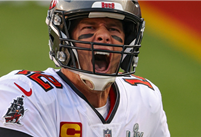 How dare any Bucs fan even think about this!
And yes, Joe considers former Buccaneers quarterback and current NBC Sports analyst Chris Simms a Bucs fan.
Why? Because Simms openly says he roots for the Bucs. And to make Simms even more pro-Bucs, he was an assistant coach with the Belicheats when Tom Brady was there.
On Pro Football Talk this week, Simms notes that Brady is not perfect, even though Simms thinks the Bucs are primed for a monster season and the NFC South crown.
"If there's one flaw he's got, we know what it is. Can you get to him? Can you get there? Can you get around him? I mean almost every turnover and interception he had last year had to do with people around him, he didn't want to take the hit, let me get the ball out," Simms said.

"And I don't know if Dallas' defensive line is ready for that, you know, not now. And you can't overly blitz Brady. … It's going to take a special team this year to knock [the Bucs] off the perch."
Simms went on to say this is the first time in a handful of years that the NFC has a massive powerhouse team.
Co-host Mike Florio agreed and said the 2021 Bucs feel like the 2014 Seahawks coming off their Super Bowl win as a well-balanced juggernaut. That Seattle team lost to Brady in Super Bowl.