"I Think This Tampa Defense Is Going To Be Feasting"
September 9th, 2021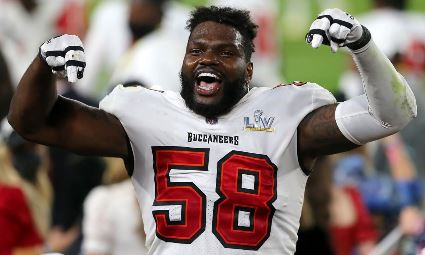 This should get fans even more fired up for a victory tonight.
There's not a whole lot for Joe to add to this NFL Network piece on the Bucs' front-seven on defense vs. the compromised Cowboys offensive line and rusty quarterback Dak Prescott  that Peter Schrager says "comes in waves and waves and waves."
In fact, closet Bucs fan Schrager confidently says the Bucs front-7 is the very best in the NFL and he is convinced Prescott will be running for his life like Patrick Mahomes did seven months ago.
Joe will let the co-host of "Good Morning Football" take it away.
"With Zack Martin likely out and Dak playing for the first time in 300 days, TB is absolute worst possible matchup for Dallas. The @Buccaneers don't have 3 stars in their front 7. They go 12 deep there, added a 1st rounder, and come in waves. Good luck with that." — @Pschrags pic.twitter.com/femF4r05KF

— GMFB (@gmfb) September 9, 2021