"Hard To Keep The Blinders On"
September 30th, 2021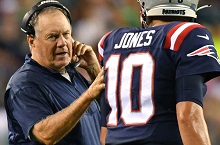 In some ways the Bucs' clash at the Belicheats on Sunday night will be all about humanity.
Tom Brady, despite many reports, is a human being, not a football robot defying all laws of nature as a 44-year-old quarterback.
Returning to face his 20-year team under a huge spotlight and a packed house of screaming fans, family and friends is not just another game. He's human. No mortal could block that out.
Will Brady press just a little bit? Maybe push himself to make a play a little more than usual and take needsless risk? Maybe.
Joe can almost smell Brady forcing a couple of balls to Rob Gronkowski in the red zone.
But on the other side of the ball is much more pressure and humanity. That was the chatter from retired quarterback Mark Sanchez, who knows what it's like to be a rookie facing Brady in big games.
Sanchez had that pleasure with the Jets as a young quarterback from 2009 through 2012, including beating Brady in the 2010 playoffs.
Mac Jones is the rookie QB facing the Bucs on Sunday, and Sanchez described to The Herd on FOX Sports this week about how difficulut it will be for Jones to maintain proper focus against the Bucs. "Hard to keep the blinders on," he explained.
It'll be nearly impossible for Jones to not look up at the stadium video boards to see what Brady is doing, per Sanchez, who predicted that Patriots coaches will be telling Jones all week that he's not playing against Tom Brady — it's the Bucs defense that is the concern.
Sanchez reflected how he was a bit mesmerized as a rookie facing Brady, in addition to guys like Carson Palmer and Aaron Rodgers.
Joe's not worried about Brady on Sunday. By the time the second half rolls around, Joe suspects it will feel like just another game for Brady, and he has the better team around him.