Bucs At Rams, TV Map
September 25th, 2021
Will you get to see the Bucs face the Rams in Los Angeles tomorrow on free TV? Joe is here to help.

Unless you live in the upper Midwest, upper Rockies or the Pacific Northwest, it is highly likely you will get the game broadcast over your local FOX affiliate. The Bucs-Rams game is a national telecast in the 4 p.m. window.
Of course, Bucs fans can head over to Big Storm Brewery in Clearwater, Odessa, Cape Coral or downtown Orlando at the Amway Center to watch the game. Naturally, visiting your neighborhood Hooters is always a wise move.
Unfunny Joe Buck and Troy "Make a Play" Aikman will handle the call for FOX.
(Streaming information and options will be included in the "Gameday Tampa Bay" post scheduled to publish here at midnight.)
As always, TV coverage maps are courtesy of 506sports.com.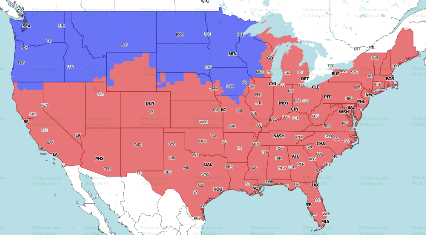 Red: Tampa Bay @ Los Angeles, 4 p.m.
Blue: Seattle @ Minnesota