Bruce Arians: Dallas "Caught Us A Little Off Guard"
September 15th, 2021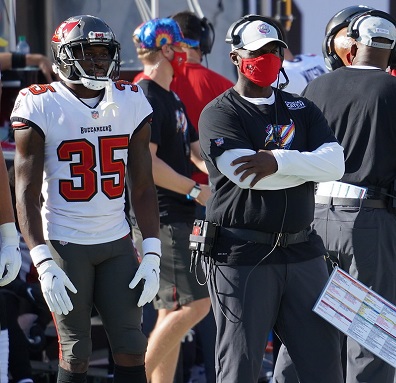 Candid and somewhat confusing comments from Bucco Bruce Arians.
The Bucs led the NFL in rush defense the past two seasons, including total yards and yards per carry. So logic says NFL offensive coordinators will stop trying to pound the rock, especially if they have an elite receiving corps and a Pro Bowl quarterback like the Cowboys have.
Flash back to Thursday's season-opener at The Licht House, and the Cowboys stopped the running the football early. The scoreboard didn't force Dallas into an all-out passing assault. It was by choice.
Arians admitted on Bucs Total Access that this flummoxed the Bucs.
"They caught us a little off guard throwing it 58 times and not really trying to establish the run, thinking they would come in with that big offensive line and try to pound [Ezekiel Elliott] more," Arians said. "… We gotta adjust to some different screen looks a whole lot quicker than we did. I think as the game went on we adjusted a little bit better."
The head coach went on to say (pray?) he wants teams to run more against the Bucs so they can establish what they want to do defensively. "So we can play our style game," Arians said.
Joe blubbered all summer about how the Bucs will be attacked differently this season because of all the film on the everybody's-back Bucs defense during the Arians regime.
Interestingly, Arians also noted that the Cowboys passing attack forced Lavonte David and Devin White away from their greatests strengths and into pass coverage.
Enjoy today's Ira Kaufman Podcast, presented by Bill Currie Ford.