"After That It's All Tolerance, Pain Tolerance"
September 30th, 2021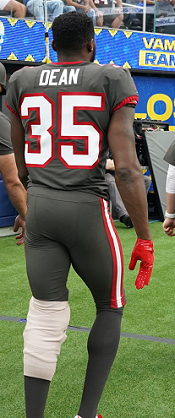 Talk about a coach sending a message.
There may be no Buccaneer with more urgency to perform on Sunday than cornerback Jamel Dean, who left Sunday's game in Los Angeles with a knee injury.
Dean had a long history in college of injuries, including major knee issues, and he's yet to play a full NFL season, missing three as a rookie (2019) and two last year.
So far this week, Dean has been practicing on a limited basis, but defensive coordinator Todd Bowles sounded a public alarm today that seemed to say Dean better learn how to man up for Sunday in New England.
"I mean, you play 100 percent of your career; you play at 100 percent your first year, after that it's all tolerance. Pain tolerance," Bowles said. "But we'll see how [Dean] looks in a couple of days."
Damn, that's not exactly a coach saying something like, "We hope he can heal in time. Dean's giving it his best shot and working with trainers."
Bowles echoed a mindset Joe has heard from Bucco Bruce Arians in various forms. Arians rode Scotty Miller publicly when he wasn't playing while banged, and he talked about Carlton Davis maturing and playing through injuries.
Dean might want to get a shot in that knee, or find any way to push through on Sunday. Otherwise he might yield to the Richard Sherman show in a hurry.
**((And for the anonymous dude who keeps emailing Joe about "stealing photos," the iconic JoeBucsFan photographer was at the Rams-Bucs game and will be on the ground in New England on Sunday. Call the Bucs if you don't buy it.))**
Dreams do come true!
Find your @BigStormBrewing taproom at https://t.co/vGcehHQRHu – Orlando (Amway Center), Clearwater, Cape Coral, Odessa. pic.twitter.com/gSuTlFRo6h

— JoeBucsFan (@JoeBucsFan) September 30, 2021