"Typical" Is Different For Tom Brady
August 11th, 2021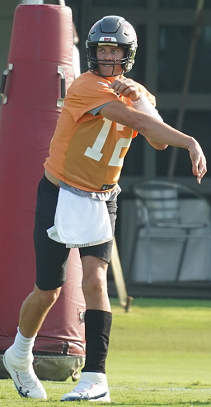 For reasons unclear, Joe thought just about everyone who stood behind a mic today after practice to talk to the Tampa Bay pen and mic club was on fire.
Everyone seemed to be in a good mood with good intel to share. Everyone had some one-liners. Everyone was smiling.
Bucs Super Bowl-winning coach Bucco Bruce Arians had an interesting comment about park-violating, home-invading, NFLPA-ignoring, down-forgetting, handshake-stiffing, jet-ski-losing, biscuit-baking, tequila-shooting, smartphone-phobic, waffle-grilling, trophy-throwing, roller-coaster-scared, numbers-rules-peeved, helmet-tossing, football-punting, Bucs-Super-Bowl-winning quarterback Tom Brady.
In short, Brady's normal day is not like most humans'.
"I thought it was outstanding," Arians said when asked to grade Brady's practice Tuesday. "He was very, very accurate. Just a typical, solid Brady day."
You don't normally hear a guy described as "outstanding" and then a couple of sentences later hear "that's just typical."
But then, that's why Brady is Mr. Seven Rings and single-handedly turned around a team that couldn't find a way to win and made it a Super Bowl champion.