Tyler Johnson Is Riding A Streak
August 11th, 2021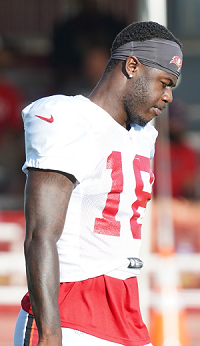 After early struggles in training camp and reporting out of shape, second-year receiver Tyler Johnson is now on a roll.
And he picked up a key compliment today from Bucco Bruce Arians.
Arians praised Johnson's blocking, and that's huge. (No, it's not because he's going to be the next Michael Clayton.)
For those who don't watch the Bucs offense carefully, Chris Godwin blocks a lot, including big dudes in the trenches. It's all part of the scheme and what it means to play the slot in Arians' offense.
Scotty Miller and Antonio Brown aren't going to go there, and Johnson, who is a bit of a Godwin clone, needs to if he's going to have a clear future under this Bucs coaching staff.
Johnson has had about seven or eight really good days after his rough start, Arians said, and the head coach added that Johnson is a pound or two away from weight.
(As you can see from Joe's recent photo above, Johnson looks a lot leaner than when he showed up at camp.)
This all great news. If Johnson is the player the Bucs think he is, he should make a good leap this year. And if that means not being seen much and making huge plays in playoff games again, Joe's all good with that.