Tom Brady: We Gotta Play Up To Our Own Standard
August 25th, 2021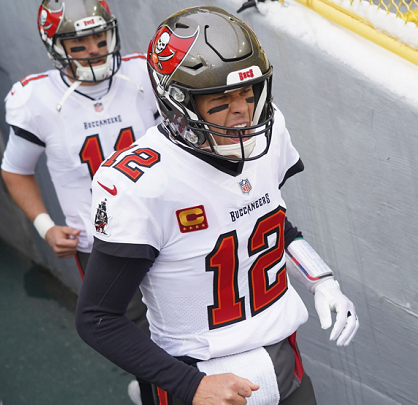 Tom Brady was talking yesterday.
What intrigued Joe most was Brady passionately naming five offensive teammates who he knows can play at a high level, as defined by Brady himself.
Mr. Seven Rings was on SiriusXM NFL Radio telling the world that the football basics and time will drive the Bucs' offense to new heights. Per Brady, "more situations will come up" that the team has yet to experience together and they will grow stronger from it.
In Brady's mind, an offense needs years together to peak.
For 2021, it's about internal goals and players delivering their A-games.
"We gotta play up to our own standard, to the level that we're all capable of playing. I know Mike [Evans] is capable of playing at a high level, certainly I am, Leonard is, Gronk is, A.B. is, Scotty is. At the end of the day it's no magic," Brady said with fire.
Yes, Joe is overanalyzing, but Joe was intrigued to hear Brady choose those five players when he was thinking about elite performance.
---
Hall of Fame Buccaneers icon Derrick Brooks raises key concerns out of Preseason Game 2. Enjoy TAMPA TWO, presented by Converged Technology Professionals. Brooks is sharing his insight with The Sage of Tampa Bay Sports, Ira Kaufman.
More fun from The Identity Tampa Bay & Joe.