Tom Brady Talks About His Body Not Responding
August 25th, 2021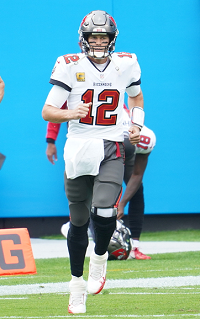 Rare personal reflection on an injury here from Tom Brady.
The Tampa Bay version of Brady is a more candid guy (even if he claims about 90 percent of what he says isn't the whole truth).
On SiriusXM NFL Radio yesterday, Brady opened up about his offseason knee surgery and the challenges it brought.
"It was sixth months today [Aug. 24] that I had knee surgery," Brady began. "You know, it was a tough offseason in terms of the rehab. … But I feel like I'm really just now kind of feeling — not from a rehab standpoint but from a football standpoint — like you know my legs are feeling bouncy and ready to go. My arm's feeling live. I think that's the hard thing.

"When you miss time and you don't continue to train the way you're capable of training, it's tough because your body just wants to, you know, it feels like, 'Ok, I get time off.' And then when you get your body going again, it's hard. You're body's like, 'No, no, no, no. We're not working out. We're chilling.' You know and I'm trying to get it going and it just doesn't want to do it. So I've had to push through different things and even the early part of training camp, just getting my legs under me and getting my football legs.

"Again, when it's 95 [degrees], you got pads on and the helmet and you're reading coverages, and the mental strain and the day-after-day and the sleep, it's just a lot of football conditioning that needs to happen. Even for somebody that's been doing it as long as me, it's always a challenge. I think that's why I love the sport. It's a continuous mental, physical, emotional challenge. You have to bring it every day."
Brady went on to talk about how he's got Bucs teammates that bring everything they have daily and they inspire him.
Hearing this made Joe wonder whether Brady would have it in him to push through another significant injury that requires offseason rehab. Hopefully, Brady and Bucs fans never have to face that scenario.