Tom Brady Says Antonio Brown Thinks He "Blacked Out" During Fight
August 20th, 2021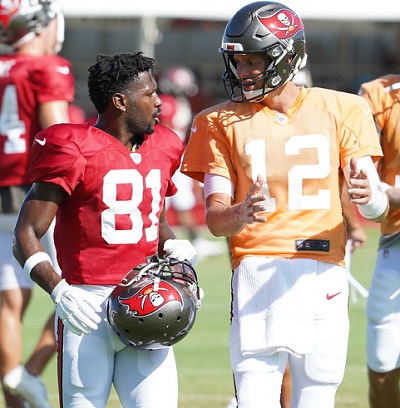 Now this is a little scary.
NFL fans know all about the history/baggage of furniture-hurling, bicycle-throwing Antonio Brown.
He's served his debt to society (and the NFL) and is out from under the law as of earlier this year. Bucs fans hope Brown is mentally stable and ready for a great season.
Yesterday, Brown got into a fight with a Titans defensive back and threw punches and ripped the guy's helmet off. Speaking on SiriusXM NFL Radio tonight, Tom Brady talked about the fight at One Buc Palace and shared his interaction with Brown after the melee.
"I asked. I said, 'A.B., what happened?'" Brady began.

"He said. 'Man, I lost it. I lost it. I just blacked out. I think I blacked out over there.'"
Yeah, Joe cringed a little hearing Brown say he blacked out in rage. But hey, it's football and not a woman or a furniture mover. So it's all good.
Brady added that he was feeling that a Leonard Fournette-Jeffery Simmons fight might be inevitable at the joint practice with the Titans yesterday. So he stepped in and asked Fournette to stop chirping.
Playoff Lenny said he would, per Brady, and that led to one of Brady's favorite moments of training camp.
Brady had his teenage son Jack with him at camp all this week and after the elder Brady cooled off Playoff Lenny, Jack walked up with a message. "Jack comes up to him like 10 seconds later, and says, 'Hey Lenny, man, if you get in a fight with him, I got your back."'
Brady said it was hilarious and one of his treasured moments as a dad, and then he ordered Jack to run away from any fight pile if he finds himself near one.
Joint practices are crazy, Brady said, and he likes Bucco Bruce Arians' analogy of the sessions. "There's 30 dogs and there's 15 bones."
Listening to Brady, it's so obvious he's having a great time with the Bucs.
---
Talking Titans! TAMPA TWO is back with a look at training camp and Preseason Game 2.
Derrick Brooks is in the house!