Not A Touchdown Maker?
August 18th, 2021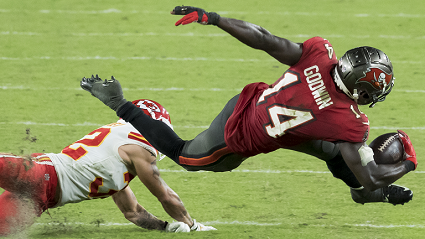 The oddsmakers and the fantasy football gurus have teamed up to label Chris Godwin a guy who won't score a ton of points this season.
Yes, Joe acknowledges the gamblers among readers (Joe is one of them), and one of the more interesting season "prop bets" inside the Tampa Bay roster is Chris Godwin at over/under 7 1/2 on touchdown receptions in a 17-game season.
It's tough to catch a lot of TDs when you are not your team's No. 1 deep threat or No. 1 red zone threat. And that's where Godwin finds himself.
Throw in that, if everyone stays healthy, Godwin will be battling Antonio Brown for touches all season instead of half a season, as well as O.J. Howard and Giovani Bernard. That trio wasn't in place last year.
Joe sees a lot of Godwin's potential production hanging on how much the Bucs want to play to their strength and throw the ball around the field to arguably the most elite set of pass catchers the NFL has ever seen.
If Bucco Bruce Arians pounds the table for balance, then Godwin is likely to have a strong yet unspectacular season. In that scenario, Joe would peg Godwin for 950 yards and 7 touchdowns.