"No Pouting. No Nothing"
August 26th, 2021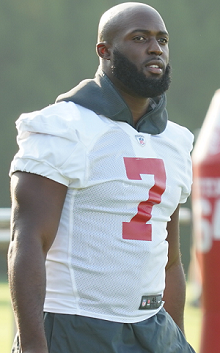 Word choice can tell quite a story.
Buccaneers assistant head coach Harold Goodwin is a fast-talking and refreshing straight shooter.
Today he was asked about Leonard "Playoff Lenny" Fournette and how he's been this summer.
Goodwin was quick to say that after Fournette had his well-documented sitdown with Bucco Bruce Arians around the time he was benched in Week 14 last year, "He's been a different person. He's been focused every day."
The pictured painted was that of a new and consistent Fournette, versus what the Bucs got before mid-December of 2020.
"No pouting, no nothing. So he's been a pleasure," Goodwin said of Playoff Lenny. "I like the way he's grown up. Because at the end of the day, we got so many good players on this team at any position, so you just got to fit in where you can get in. And he's done that."
Telling stuff from Goodwin. And it's just more evidence of the magical job Arians did managing that situation last year.