Next-Level Giovani Bernard Impact
August 18th, 2021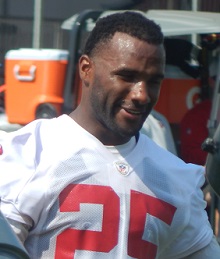 How much better can the Bucs be with running back/receiving back Giovani Bernard?
A former Buccaneer turned Xs and Os guru has an idea.
Joe's referring to 15-year NFL tight end Dave Moore, the game analyst on the Buccaneers Radio Network and a visitor to practice at One Buc Palace today.
Moore talked to WDAE radio about Bernard's likely impact and why he represents something fresh.
Moore said Bernard is an excellent route-runner in space, so he can pull off what LeSean McCoy and Leonard Fournette could not last season.
"Most of the things [Fournette] did last year were out of the backfield, not getting in the personnel and then shifting to an empty backfield and getting a 1-on-1 with a safety when they identify that man-to-man coverage," Moore said. "So [Bernard] brings a whole [new] level to that third down passing game. He's a guy who understands protection, can block blitzers but also be out in space and be a formidable route-runner in key situations."
Man, it would be wild if Bernard ends up with a season for the ages, say 80 receptions for 800 yards and 10 touchdowns. Joe thinks it's possible. After all, what defense will focus on Bernard with the stable full of elite pass catchers across the Bucs' offense?
Bernard quickly will realize he's not in Cincinnati any longer.