"It's Hard Not To Have A Hangover"
August 27th, 2021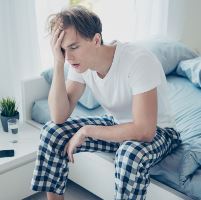 No, Harold Goodwin was not talking about waking up around 11 a.m. in a Las Vegas hotel with your pounding head reminding you the last thing you remember through the fog is shots of Jack at 4 a.m.
(Yes, Joe's been there. This is what happens when you can't get Big Storm Brewing beers in Nevada.)
Goodwin, the Bucs' assistant head coach and run game coordinator, was actually discussing a Super Bowl hangover. And it seems, at least for Goodwin, that's a helluva hurdle.
"It's hard not to have a hangover," Goodwin said after Bucs practice yesterday. "'BA' is doing a good job to make sure they don't."
Arians is fighting this from all angles, even inside his own building at One Buc Palace.
It seems Bucs management and/or the Tampa Stadium Authority was indirectly responsible for pumping the Bucs with fresh memories of winning the Super Bowl last year.
And Bucs coaches didn't like it.
"The thing I didn't like going back to the first preseason game, they had all those banners around the inside of the stadium," Goodwin said. "I'm so glad they got them out."
And the Bucs have a fair amount of Super Bowl signage inside the faux rod iron gates of One Buc Palace easily seen surrounding the Bucs practice fields.
"I'd like to get them off the fences, me personally," Goodwin said. "We have to let that go. That was last year's team. Even though we have a lot of the same faces, that's last year's team.

"That's the mindset you have to have. We are building toward 2021. That's the mindset we have to have."
There is one more major step for the Bucs to get over this hangover without chugging spicy Bloody Marys. That is opening night in 13 days when the Super Bowl championship banner will be raised.
After getting punched in the mouth a few times on Sept. 9, whatever happened last year should be in the Bucs' rearview mirror.