"I Would Have Been The MVP Of The Super Bowl"
August 31st, 2021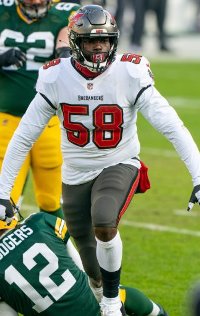 Every player has different motivation.
Some use the media as fuel, or angry fans, or their escalating debt, or a desire to be a starter.
Bucs sacks king Shaq Barrett is one of those guys always focusing on specific motivation. Joe had a chat with Shaq about this at the White House last month. He is deadly serious about winning the NFL Defensive Player of the Year award and setting the NFL sacks record.
But Shaq shared another thing that drives him to Peter King, the often pontificating NBC Sports super insider.
King was talking all things Bucs with Pro Football Talk and referenced a private chat he had with Shaq at training camp.
King explained that Shaq is hung up on three plays he missed in the Super Bowl. "If I just make the plays I should have made," King explained in Shaq's voice. "I would have been the MVP of the Super Bowl," King continued.
For those who forgot, Shaq had one sack in the Super Bowl, four quarterback hits and relentlessly chased Patrick Mahomes all over the field. Joe suspects Shaq thinks a three-sack game and maybe a forced fumble in one of the most dominant defensive performances in Super Bowl history would have gotten him the MVP award.
Joe doubts Brady would have lost that honor to anyone, but that's unimportant.
Shaq, per King, is crazy hungry to get back to the Super Bowl so he can win the MVP he let slip away in February.