Happy Brady
August 31st, 2021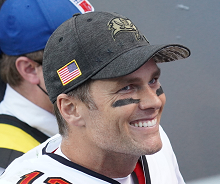 We read the story, but now the author is sharing his in-person impressions.
NBC Sports uber NFL insider Peter King shared quotes from his 19-minute sitdown with Tom Brady at Bucs training camp about 10 days ago. Joe typed up several of them.
King goes back years with Brady and is one of the few to be granted that kind of access with The Goat.
While visiting The Rich Eisen Show yesterday, King was asked for his impressions of Brady up close and personal.
"Effusive, excited, you know, really, really happy, content with his life, happy he did what he did," King said of Brady. "And he acts young."
Joe's always interested in sniffing out the chances of Brady staying for the 2022 season and beyond. Yeah, he has a contract for 2022, but Brady will leave whenever he wants. Everyone knows that.
King, who legitimately knows Brady, saying Brady is super happy makes Joe all warm and fuzzy inside.
Interestingly, King is certain after talking to Brady that veteran newcomer running back Giovani Bernard will "score a lot of touchdowns and have a chance to be a really good red zone player." King explained that he advises fantasy football players to jump on Bernard.