Gerald McCoy Joins The Vegas Raiders
August 4th, 2021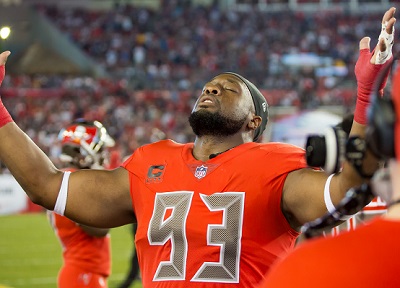 It's fair to say Patrick Mahomes' sleep won't be disrupted tonight.
Little rattles the Chiefs' quarterback, outside of men in red wearing the numbers 90 and 58. And certainly he won't be shaken by No. 93, Gerald McCoy. The six-time Buccaneers Pro Bowl defensive tackle signed with the Raiders this evening.
At 33 years old, McCoy has made a mountain of money through his career, beyond $100 million. So it's all about love of the game now for McCoy, who signed a multi-year deal with Dallas last year before a major quadriceps injury last summer ended his Cowboys tenure.
Now he's in bed with Chucky trying to jumpstart his career with an unpredictable 8-8 team.
Joe wishes McCoy well as he gets to follow in the Raiders footsteps of one of his Bucs heroes and mentors, Warren Sapp.